The Silver Bullet, is a model for living a sustainable tiny lifestyle. I designed and built this zero-waste, off-grid, non-toxic tiny house in 2012, which serves as a modular example of sustainable lifestyle design.
To date, I have travelled 18,265 miles to speak about my tiny house journey that brings me MORE time, MORE substance, MORE passion, meaning and community while having LESS stuff, LESS stress, LESS work, LESS maintenance and cost.
My name is Vera Struck and I am an artist, a mother, an entrepreneur, a tiny house designer/builder/dweller/consultant and author. I am a "hugger" and love to meet people, creating community. The Silver Bullet Tiny House is now retired from traveling; however you can schedule a ttinyhouse consultation via Zoom or GoogleHangout, please click on our services page.
Our open houses, tours, and workshops empower individuals with an engagement model to lead themselves, their families, communities and workplaces towards a sustainable world.
From the bottom UP, a grass roots approach, not from the TOP DOWN.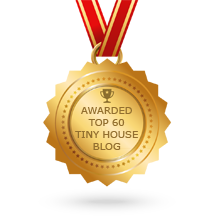 Note:
The contents of this website are provided for informational purposes only and should not be construed as advice. While all information shared here is believed to be accurate, the owner/operator of this website specifically disclaims all warranties expressed, implied or statutory, regarding the accuracy, timeliness, and/or completeness of the information contained herein. Please discuss any specific needs with a qualified professional.